Just before the holiday weekend, I had the honor of facilitating a call with Bill McKibben and an incredible group of almost a dozen bloggers -- from Julia at WorldChanging to Kristen at Motherhood Uncensored to Dave Roberts at Grist, and others. I'm pasting the audio of the call at the end of this post, so you can listen to the entire conversation with Bill.
Produced by our friends at Brighter Planet, the roundtable was a chance to dig into everything from carbon offsets to federal policy to personal carbon-cutting lifestyle changes.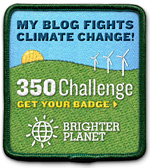 The call also marked the launch of the 350 Challenge -- which we're proud to join by placing this badge on our blog. (Full disclosure: this was a campaign idea that we developed in partnership with Brighter Planet.) For every other blogger who adds the 350 Challenge badge to his/her site, Brighter Planet will offset 350 pounds of carbon in your name. Which is actually a lot -- the equivalent of shutting off 100 light bulbs for a day, or going two full weeks without your car.
If 350 bloggers join in (more than 100 already have!), we'll together do the equivalent of turning off all the power here in Washington DC for five minutes. What are you waiting for? Get your badge here.
As McKibben said himself during the call, it's clear that offsets are not the cure-all for this climate mess we're in -- that's why we have national and international political campaigns like 1Sky and 350.org -- but they're a great way to minimize the impact of your own footprint after you've done what you can to conserve. That's why I like Brighter Planet's line, "conserve what you can, offset the rest"
Here's the call with Bill -- also here: